Jah Shaka Profile by Jah Warrior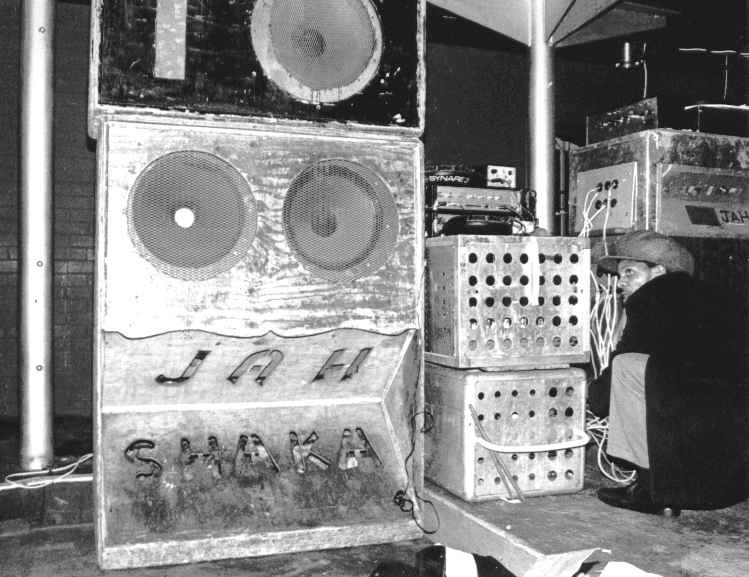 JAH SHAKA THE DUB WARRIOR
Steve Mosco: "I first heard Jah Shaka in June 1981 at The Havana Club in Derby. It was a Wednesday night & the place was packed. I'd heard a lot of sounds before like Sir Coxsone, Fatman, Quaker City & Jah Tubbys & I'd heard a lot about Shaka so I was eagerly anticipating it. I wasn't disappointed. He was playing with another sound from Derby whose name I've forgotten. They were good - crisp, clean & heavy with some good music, but when Shaka started playing it was like an earthquake in the place. He played one piece of plastic to sign on with & then pure dubplate the rest of the night - vintage Twinkle Brothers, Pablo, Johnny Clarke, King Tubbys, Scientist etc. I was standing a few feet away from his ampcase & was transfixed by "the little shortman" bobbing up and down in the air, eyes rolling like a man possessed as his speakers literally shook the walls to their foundations and the sirens & syndrums cut through your ears like piano wire. I was also amazed to see his deck vibrating up & down several inches yet not jumping on a track once; such are the tricks of soundmen. After each tune he played the crowd just stood in silent admiration - awe, even. To this day I still regret not having carried my tape machine in there. Four hours later, the dance finished and I was a confirmed Shaka follower. As a final footnote, my ears didn't stop ringing for three days afterwards. "
Jah Shaka is a dub extremist, taking the music beyond the limits of excess. Concentrating on the stomach churning frequencies of bass and ear piercing tops, he hammered dubs home with a vengeance and added his own extra dimensions of sonic madness with the sirens, syndrums and chants which were fed through a pair of H&H tape echos and bent into splinters of aural excess reverberating throughout the dance. I consider him to be the most important figure on the dub scene today, not only in the UK but also internationally, for without him the scene would have died a death many years ago. Every single person without exception who has produced dub music or started a roots sound system in the past 10 years has been directly or indirectly influenced to do so by Shaka, and his dances have become a phenomenon, attracting a large, diverse and multi cultural audience, taking in venues which would previously have been considered unthinkable to host a reggae sound system.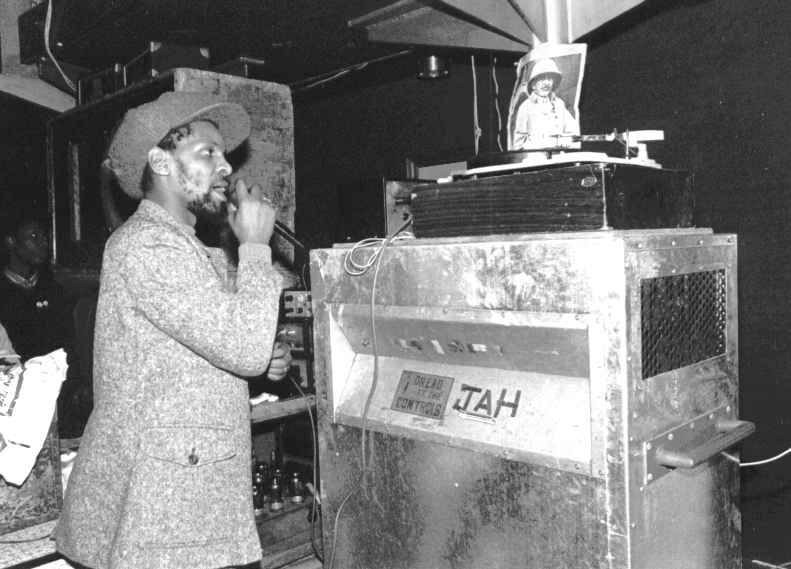 The story of Jah Shaka really started in the mid 1970's. Here are some reminiscences on that period as related to me by a former member of his sound crew in that era:
"Shaka used to get his dubs from the producer Winston Edwards. He had an arrangement where any good tune being made in Jamaica, he was the first to get it, long before it was released. He also got more cuts than anyone else and better cuts then anyone else. That's how he made his name… At one time he used to sign on with 12 cuts of Kill Nebuchanezzar by Fred Locks when he was playing with another sound. There was no way that anyone could match it, so that was that, he'd finished the other sound off before the dance had even begun…. Eventually he'd worked his way round every sound in the country and dealt with all of them… except one, Sir Coxsone. Coxsone was regarded as the number one then & they'd heard about Shaka and they'd been avoiding playing him until finally a dance was arranged & they played together for the first time. It was in Croydon in 1976. Well Shaka went for it that night and half way through the dance, Lloyd Coxsone took the mic and said "Stop the dance, stop the dance! In all my years in sound system I've never heard a sound like Jah Shaka." And that was it, that was the night Shaka took the crown as number one in England and from then on nobody could touch him for years……….."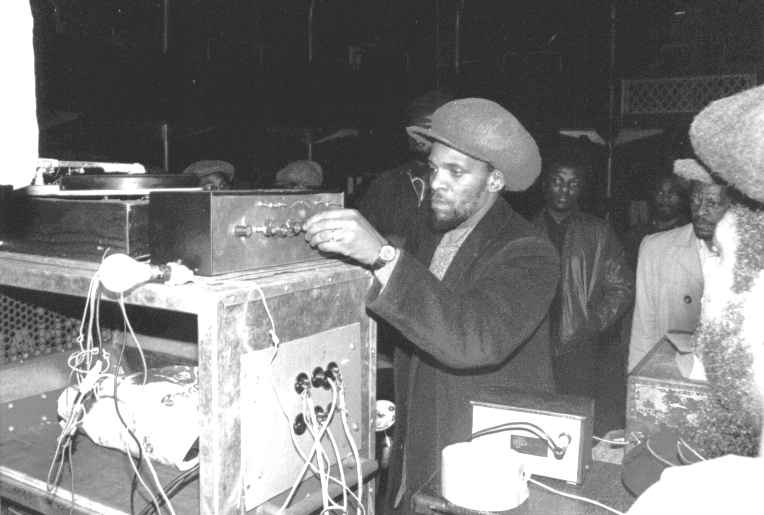 Throughout the late 1970's & early 1980's the self-styled "Zulu Warrior" could be seen regularly in London at venues like Club Noreik in Tottenham, Studio 200 in Balham, Cubies in Dalston & most famously in the basement at the legendary Phoebes in Stoke Newington, a former drinking club owned by east end gangsters the Kray twins, where he had a Friday night residency for several years. When Shaka gave a lecture at Stamford Hill Library in the mid 80's, the place was full of soundmen & assorted dreads, one of whom summed up the Phoebes sessions by saying, "I received my spiritual education there – Phoebes was my church and Shaka was my preacher".
Shaka also travelled the length and breadth of West Indian Britain, from Huddersfield to Bristol to teach the 'country' sounds how it was done. In 1980 he featured in a brief but memorable sequence in the film "Babylon", sirens blazing through Johnny Clarke's title tune. In an NME feature on sound systems the same year, Shaka was amongst those interviewed, stating, "The National Front and me would have a lot in common. We want to go back to Africa and they want to send us there…"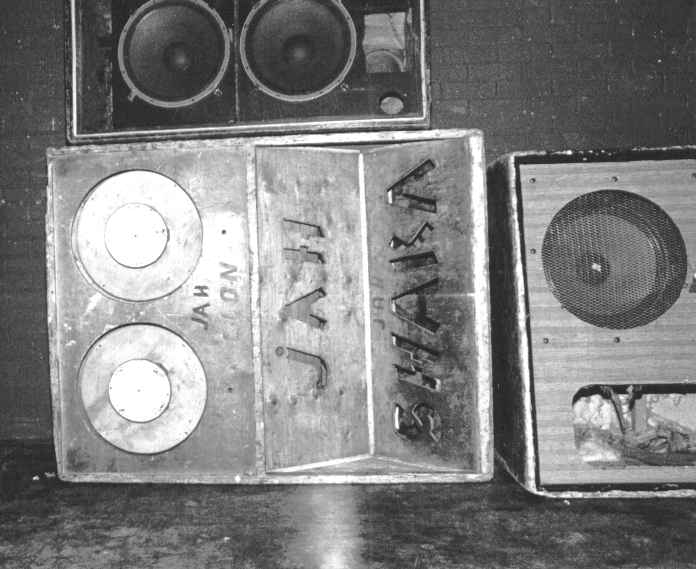 There are many legendary stories surrounding Shaka; like the night in Northampton when Coxsone's mcs were mouthing off about a Lee Perry dub they had & Shaka silenced them by just looking over, shaking his head, & putting a finger to his lips; the night at Acton Town Hall when Soferno B announced that they were the only sound in the world to have Ijahman's "Moulding" & Shaka responded to their 2 average cuts by playing 15 killer cuts of his own; the night at Southall just after King Tubbys death when Joey Jay tried to do a tribute to King Tubbys with a minutes silence & Shaka repeatedly interrupted him by saying "No man, Tubbys was my bredren & he never liked silence, he always had music playing…run a music." Joey Jay tried his silent tribute again and failed and was forced to play a King Tubbys plastic before Shaka hammered the message home with a murderous Tubbys dubplate; The night in Phoebes when a dread walked in wearing a dress and carrying a broom handle with a doll tied to the end & spent the entire session standing in the middle of the dancefloor twirling the long handle round and round his head; the night when singer Errol Dunkley is reputed to have thrown bottles at Shaka for, according to different versions of the story, either playing too many cuts of a riddim, or refusing to play an Errol Dunkley tune, and Shaka responded by…… but that's another story.